The Battle of Jericho book review
The Battle of Jericho by Sharon M. Draper
The Battle of Jericho is about a young boy and his friend who pledge into a frat.  Jericho and his friend Josh to boost their self-esteem.  while pleading Jericho started to get notice by the girl of his dreams so he enjoyed being in the club.  Although the club had a very good reputation around school for community service they did. The club was also hazing students. In there last hazing battle josh, Jericho friend ends up getting killed.  After reading the book it made me question what are the lengths you are will to go to, to feel accepted.  This is my favorite book because it teaches you a  life lesson, and left a heavy impact on me.
---
Junie B. Jones Book review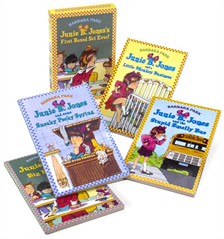 As a kid I read many Junie B. Jones books if not all.  I think the books are very helpful for young kids who are learning to read.  It was very helpful to me when I was young. Because the books got me more interested in reading. I thought the books were funny, very age appropriate and adventurous.. Still at the age that i'm at now the Junie B. Jones series are among my top favorite books.
---
About to post a class assignment on here!
---
---
#MFW: DOLCE & GABBANA SPRING/SUMMER 2013

"We want to do it our way - we don't want to be trendy,". Dolce & Gabbana truly turned it out in this super diverse and huge Spring 2013 collection. Burlap sacks were turned into t-shirt dresses, the umbrella stripe motif was taken advantage of to the max, and scarf print creations flourished as well.

Inspiration for the designers is usually drawn from all over Italy - this time dabbling into the Roman era, taking soldier prints and putting it to cloth. They truly are great designers and make fashion very proud. Hot!
---
---
---
Major Rodarte heels

Photographed by Eva Chen
---
---
---
---
RITA ORA IN WEST HOLLYWOOD - Cheeky!
---
---
---
love comes in all different forms. 

Seal helps turtle to get in the water!

Animal GIFs and Friday afternoons: A match made in heaven.

That turtle looks so helpless. 
(Source: watersport5)
---